I don't even know how to narrow it down to one font! I'm constantly looking for new ones to spice things up :) But the one I'm using [and loving] today is from
Da Font
[click the link to go to there website].
All the fonts are free just be sure to read the terms of use if using them for reasons other personal
This is about as hard as picking a favorite font... So I choose the first blog I ever started reading and interacting with...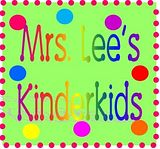 Mrs. Lee's blog was the first one I really started reading and was an unofficial follower for months before starting my own blog and becoming an official follower... She has so many awesome ideas...
3. Favorite Online Resource
All the blogs I follow and find are great resources... I've also gotten ideas from Pre-K Pages and PreKinders
.. I don't think they have blogs on blogspot but they do have websites... Of course Pinterest is a fabulous resource... Love!
Don't forget to come back tomorrow for Free for All Friday!